Air Conditioning Repair Service for Fairfax Homes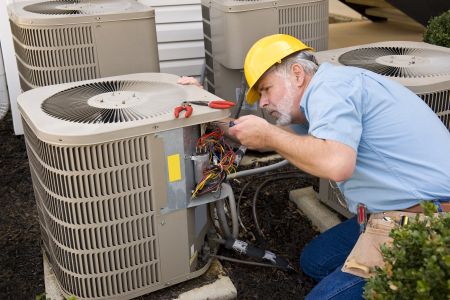 For air conditioning repair, Fairfax's first choice is Levanair Heating & Air Conditioning! We offer prompt, convenient air conditioning repair services to get your home cooling system up and running when you need it most.
It's every homeowner's worst nightmare- attempting to relax in your home and escape the summer heat, only to realize your air conditioning system has stopped working. In Fairfax's muggy summer season, an AC breakdown can be overwhelmingly disruptive, but luckily, Levanair Heating & Air Conditioning has the solution you need!
Levanair Heating & Air Conditioning is a locally founded, family-owned, and operated company offering a wide variety of quality HVAC contractor services, including air conditioning installation and air conditioning repairs for Fairfax area homes. We have the repair services you can count on, delivering prompt and responsive same-day work to guarantee a system solution and a return to complete home comfort.
Our team is available 24/7 to provide prompt, quality care and air conditioning repairs to Fairfax residents- just call Levanair Heating & Air Conditioning at 703-955-9683!
Fixing Common AC Problems
With over 25 years of HVAC contractor experience, the professional team at Levanair Heating & Air Conditioning is able to apply in-depth industry expertise to every air conditioning repair service. We inspect all areas of your home cooling system to determine the specific problems and provide solutions. Some of the most common AC issues we resolve include:
Refrigerant Leaks: Refrigerant is the substance in your AC system that helps remove heat and produce cool air. Leaks of this substance can be harmful to the environment and will have a dramatic impact on your system's efficiency.
Inadequate Maintenance: When an AC unit and its components are not properly maintained, they can break down and malfunction over time. Scheduling regular AC maintenance & inspections is essential to keeping your AC working properly.
Sensor Problems: AC systems are triggered by thermostat sensors, which measure the temperature inside the home. If there is a defect with the sensor, your AC system may behave erratically and break down.
Leaky Ductwork: Kinked, crushed, or rusted ductwork can greatly reduce the efficiency of your home's cooling system. It's important to have ductwork regularly inspected to ensure there is a direct channel of airflow throughout the home.
Frequently Asked AC Questions
We do! Levanair Heating & Air Conditioning is available to provide prompt air conditioning repairs and get your AC system back up and running when you need it most. Our team is available 24/7 and can resolve AC issues and breakdowns with same-day service.
At Levanair Heating & Air Conditioning, our certified team has the skill to maintain and repair every make and model of AC equipment- no matter the brand. With over 25 years of experience, we are proud to apply our in-depth industry knowledge to every service and deliver premium brand products when an upgrade is needed.
CONTACT OUR FAIRFAX HEATING & AIR CONDITIONING COMPANY TODAY.