Fairfax's Outstanding Air Conditioning Repairs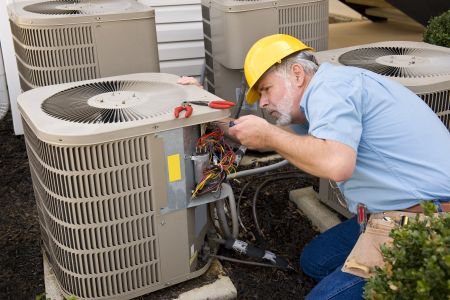 For Fairfax residents, expert air conditioning repairs and HVAC maintenance services are only a phone call away. Levanair Heating & Air Conditioning is Fairfax's locally-founded, family-owned, and operated HVAC contractor. We provide exceptional service to our community and do so with a 100% focus on customer satisfaction.
Owning a home often means dealing with the unexpected, but in Fairfax's hot, muggy summers or below-freezing winters, an unexpected HVAC breakdown can have a dire effect. At Levanair Heating & Air Conditioning, we offer a variety of services to help prevent and resolve disruptive system breakdowns, including emergency air conditioning repair services and convenient routine maintenance options.
To schedule a routine tune-up for your Fairfax home's HVAC system, or learn more about our emergency air conditioning repair service, call Levanair Heating & Air Conditioning today.
Fairfax Furnace Installation & Heating Repairs
Furnaces are a key part of HVAC systems, and while an efficient furnace is quick to heat homes, older, faulty equipment can become an energy drain and present a safety hazard.
At Levanair Heating & Air Conditioning, our certified technicians have the skill to maintain and repair every make, model, and type of heating equipment- no matter the brand. With our furnace installation services, we help homeowners choose between a variety of top-quality brand products.
Expert HVAC & Air Conditioning Maintenance For Fairfax
Regular AC inspections allow homeowners to stay on top of the state of their AC system and alert them of any issues before a major breakdown occurs. Our professional technicians offer convenient routine maintenance for Fairfax AC systems to ensure your unit is performing at peak efficiency.
Fairfax's Trusted Home Comfort Provider
Homeowners in Fairfax and across Northern VA can trust Levanair Heating & Air Conditioning to provide expert HVAC work and top-quality service. No matter what your home comfort needs may be, you can expect:
Emergency Repairs: Our team is available 24/7 for emergency issues. We offer prompt and responsive same-day service to ensure your system is up and running when you need it most.
Suprise-Free Pricing: We offer our services at competitive flat rates, with no hidden fees attached, paired with our 12-month financing options and price match guarantee on equipment replacements.
Professional Service: We employ factory-trained, certified technicians for our HVAC contractor work and uphold the highest standard of professionalism on the job.
Industry Expertise: With over 25 years of experience in the HVAC industry, we are able to apply our in-depth knowledge and expertise to every service we provide.
Routine Maintenance: Our team makes keeping up with your HVAC maintenance easy with routine scheduling options, month-of reminders, and convenient service times.
Satisfaction Guaranteed: We focus 100% on customer satisfaction to achieve complete home comfort.
CONTACT OUR FAIRFAX HEATING & AIR CONDITIONING COMPANY TODAY.