Energy Efficient ACs In Fairfax With Seasonal Tune-Ups & Care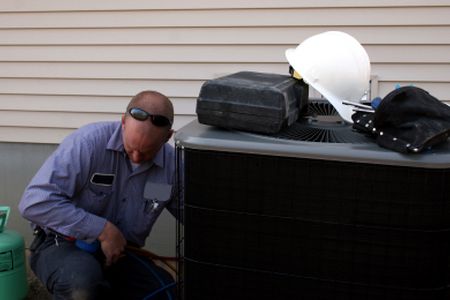 In the modern age, air conditioners are more energy-efficient and cost-effective than ever before, but there is always a way to better maintain and create a more energy efficient AC. Levanair Heating & Air Conditioning offers installation and maintenance for energy efficient AC units to help make your home greener and keep your utility costs down.
Today, homeowners are trying more than ever to lower their energy usage and reduce their carbon footprint- even at the cost of modern home conveniences. But HVAC systems and air conditioning can do so much more than keep your home at a comfortable temperature- it also improves indoor air quality through filtration and ventilation and removes humidity that can lead to mold and mildew growth. Luckily, there are options for those who want to enjoy air conditioning in a more environmentally friendly way.
Levanair Heating & Air Conditioning was originally founded in 1998, and over our 25 years of service, we've seen some major industry improvements to energy efficient AC systems. On top of better equipment, including energy-efficient AC units and programmable thermostats, there have also been huge improvements made to chemical refrigerants, making them more effective at moving and cooling AC air. These upgrades, paired with regular AC maintenance & inspection, have decreased the need for air conditioning repairs for Fairfax and beyond and have greatly improved the efficiency of modern AC units.
To learn how to achieve an energy efficient AC system for your Fairfax home, call the professional team at Levanair Heating & Air Conditioning today!
AC Tune-Ups For Superior Energy Efficiency
The Levanair Heating & Air Conditioning team understands the importance of routine AC maintenance. Not only do regular inspections and tune-ups help keep your system in the best condition, but it also helps ensure optimal energy efficiency in the home.
Regular inspections and maintenance can also lead to faster AC leak detections and repairs, keeping toxic chemicals from spilling into the environment. Our team offers convenient, routine maintenance services for your AC in an effort to keep your home green and comfortable.
Frequently Asked Questions About Energy Efficiency
It's not always easy to tell if your AC is performing efficiently, but there are some indicators to watch out for. High cooling costs can often result from a system breakdown or leak, and the age of the AC equipment is an excellent way to measure the system's overall efficiency.
CONTACT OUR FAIRFAX HEATING & AIR CONDITIONING COMPANY TODAY.