Fairfax Heat Pump Repair To Ensure Efficient Operation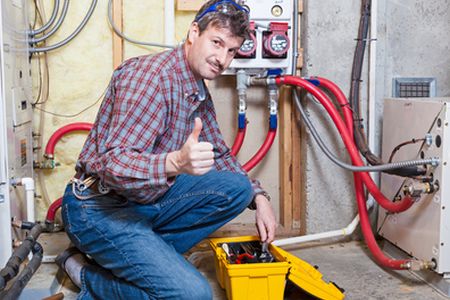 When your heat pump is in need of repairs, Levanair Heating & Air Conditioning is the company to call! We offer quality HVAC work and heat pump repair services to ensure the heating and cooling system of your Fairfax home is up and running when you need it most.
Owning a home often means dealing with unexpected problems, but in the hot, muggy summers or below-freezing winters, the last thing you need is a problem with your heating and cooling system. That's why Levanair Heating & Air Conditioning offers emergency heat pump repair and air conditioning repairs for Fairfax, with prompt and responsive same-day service.
Heat pumps work to cool and heat homes year-round, so it's no surprise that they can often require tune-ups and repairs. If you've found your heat pump isn't working as efficiently as it should, it may be to time to schedule a professional heat pump repair service. At Levanair Heating & Air Conditioning, we have 25 years of HVAC experience to apply to every repair job. We offer quality work at competitive rates and can provide an in-depth understanding of the equipment to our customers so they can keep their heating and cooling systems performing at their best.
To schedule a heat pump repair for your Fairfax home, call Levanair Heating & Air Conditioning today at 703-955-9683!
Fixing Down Heat Pumps
Much like our heating & furnace repair services, a heat pump repair involves our team of HVAC specialists conducting a comprehensive inspection of the existing unit, as well as testing and cleaning the individual equipment. Once we've determined the specific issue, we speak with our customers to decide on the best course of action. Frequent heat pump issues we've seen include:
Indoor or outdoor water leaks
Inefficient (or nonexistent) heating or cooling
Strange and unpleasant smells
Increased or unfamiliar noises
Poor air ventilation
If you've noticed one or multiple signs of a heat pump breakdown, call Levanair Heating & Air Conditioning today! Our heat pump repair specialists are standing by to solve any issues that may arise.
Frequently Asked Heat Pump Repair Questions
One of the most indicative signs your heat pump is in need of repairs is a lack of efficiency. When a heat pump malfunctions, it may heat and cool your home sporadically and often not to the temperature you want. You may also see a spike in utility costs, as an inefficient unit will consume more energy than necessary.
CONTACT OUR FAIRFAX HEATING & AIR CONDITIONING COMPANY TODAY.