Falls Church's Go-To For Quality Air Conditioning Repairs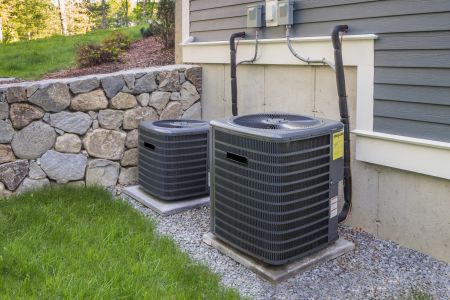 When it comes to expert air conditioning repairs and HVAC maintenance, there's only one company Falls Church homeowners need to call- Levanair Heating & Air Conditioning. Our expert team of certified HVAC technicians has the skill and in-depth expertise to achieve complete home comfort for Falls Church residents.
From air conditioning repairs to heat pump installations, we strive to provide top-quality services to our customers. No matter what kind of heating or cooling problems may arise in your Falls Church home, we have the solutions for you.
Call Levanair Heating & Air Conditioning today to learn more about our air conditioning repair and HVAC maintenance work, or receive a free estimate on your first service in Falls Church!
Cost Effective Heating Repairs For Falls Church
The last thing you need in the cold winter months is a problem with your Fall Church home's heating or furnace. But when unexpected breakdowns occur, Falls Church can count on Levanair Heating & Air Conditioning to provide quality services at competitive prices.
At Levanair Heating & Air Conditioning, we aim to keep complete home comfort accessible and affordable for our customers in Falls Church. That's why we offer free estimates, financing options, and a price match guarantee on all unit replacements.
Energy Efficient Falls Church Air Conditioning
Today, homeowners are trying more than ever to lower their energy usage and reduce their carbon footprint; that's why Levanair Heating & Air Conditioning offers installation and maintenance for energy-efficient AC units to help make your home greener and keep your utility costs down.
Exceptional Service For Falls Church
Falls Church can depend on Levanair Heating & Air Conditioning for any of their HVAC contractor needs. From the moment we start our service, you can expect:
Emergency Repairs: Our team is available 24/7 for emergency issues. We offer prompt and responsive same-day service to ensure your system is up and running when you need it most.
Suprise-Free Pricing: We offer our services at competitive flat rates, with no hidden fees attached, paired with our 12-month financing options and price match guarantee on equipment replacements.
Professional Service: We employ factory-trained, certified technicians for our HVAC contractor work and uphold the highest standard of professionalism on the job.
Industry Expertise: With over 25 years of experience in the HVAC industry, we are able to apply our in-depth knowledge and expertise to every service we provide.
Routine Maintenance: Our team makes keeping up with your HVAC maintenance easy with routine scheduling options, month-of reminders, and convenient service times.
Satisfaction Guaranteed: We focus 100% on customer satisfaction to achieve complete home comfort.
CONTACT OUR FAIRFAX HEATING & AIR CONDITIONING COMPANY TODAY.