Thermostats: Superior Control Of Your Home's Comfort Systems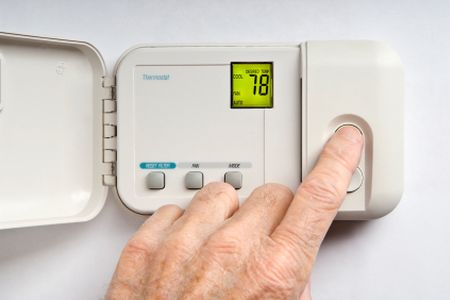 When it comes to simplifying the temperature control and efficiency of your home's heating and cooling system, there's no better upgrade than a modern thermostat. Levanair Heating & Air Conditioning offers quality thermostat product installation for Fairfax's homeowners looking to elevate their home's comfort and convenience.
Thermostats were originally invented in the 1800s as devices that could measure and regulate the temperature of a physical system. Though they originally used the harmful substance mercury in their design, over the years, they have undergone plenty of improvements. Today, thermostats are used as a way to set household temperatures and control HVAC systems. These modern amenities come in a variety of makes and models.
Levanair Heating & Air Conditioning offers top-quality thermostat upgrades and installation for homeowners in Fairfax and beyond. For over 25 years, we've provided the highest standard of HVAC work and air conditioning repairs for Fairfax homes, including offering contemporary HVAC products such as thermostats, humidifiers & dehumidifiers. With our experience and industry expertise, it's easy to achieve improved convenience and complete home comfort.
Call Levanair Heating & Air Conditioning today to learn more about our thermostat product options or to receive a free estimate on a thermostat upgrade for your Fairfax home.
Smart Home Thermostat Installation
One of the most convenient versions of modern-day thermostats are smart thermostats. These devices can be controlled at a distance from your phone, tablet, or home's smart speaker and offer a variety of controls, including scheduled temperatures for different parts of the day. Not only is this a great option for homeowners who are looking to save money on their home cooling or heating costs, but it is also an excellent way to improve your HVAC system's efficiency.
Levanair Heating & Air Conditioning offers comprehensive thermostat installation and instruction to help homeowners better understand and control their home's heating and cooling systems. We strive to elevate convenience and comfort in the home, and our smart home thermostat installation can do just that.
Frequently Asked Thermostat Questions
As Fairfax and Northern VA's leading HVAC product installer, Levanair Heating & Air Conditioning offers a variety of thermostat brands, makes, and models to find the perfect fit for our customer's homes. From the popular Nest brand smart thermostats to simpler Bryant products, we can provide the thermostat upgrade you've been looking for.
Thermostats provide control over HVAC systems and indoor temperatures. With poor installation or low-quality products, your home's heating and cooling may perform erratically or, worse, not work at all. A quality thermostat upgrade provided by skilled professional technicians can improve a home's convenience and overall comfort.
CONTACT OUR FAIRFAX HEATING & AIR CONDITIONING COMPANY TODAY.