Energy Efficient & Cost Effective Heating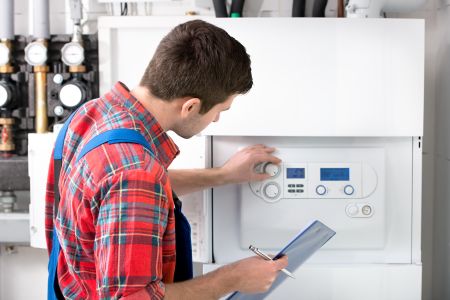 When the cold winter weather begins to move in, it's natural for homeowners to turn up the heat. After all, modern HVAC systems were built for this exact reason! However, there are a few things homeowners may want to consider before turning up the temperature in their homes, including the efficiency of their heating systems and the overall utility costs.
For more information on home heating solutions and cost-effective HVAC maintenance services, call Fairfax's family-owned and operated HVAC contractor, Levanair Heating & Air Conditioning, at 703-955-9683.
The Heat Pump Difference
While oil and gas furnaces are pretty standard for homes across Northern VA and the US, there are other options for indoor home heating. One such option is a heat pump.
Heat pumps work much like refrigerators; they use electricity to pump and transfer heat, placing cool air in cool spaces and warm air in warmer ones. This makes them incredibly versatile, as they can be used during both the hot winter months and the cold winter season.
Heat pumps are praised as a greener alternative to oil and gas furnaces, as they use much less energy throughout the year and produce less carbon dioxide emissions into the environment. They are an excellent option for homeowners who are looking to reduce their carbon footprint.
Heat pumps are also cost-effective options for home heating. They often require less energy than air conditioning units and are much cheaper to maintain than the furnace system alternatives.
Heating System Maintenance
Regardless of what type of heating system your home may use, keeping that system properly maintained is of the utmost importance. While routine HVAC maintenance can preserve unit warranties and increase the unit lifespan, its main benefit is reduced home heating costs.
Before you turn up the heat this winter, consider scheduling a routine inspection and maintenance service with your local, professional HVAC contractor. This will ensure you're home's heating system is utilizing the proper amount of energy, and you're paying the best price for your home's utility costs.
The Leading Home Heating Team
Levanair Heating & Air Conditioning is Fairfax's leading provider of HVAC maintenance, heat pump installation, and home heating services. Since 1998, we've provided quality home heating solutions and air conditioning repairs at cost-effective rates, with a 100% focus on customer satisfaction. Regardless of your current heating system or the make and model of your equipment, we can help ensure optimum heating efficiency to reduce heating costs for your home this winter.
CONTACT OUR FAIRFAX HEATING & AIR CONDITIONING COMPANY TODAY.